Hak Files
For Dummies and New Players
2) Cllck Run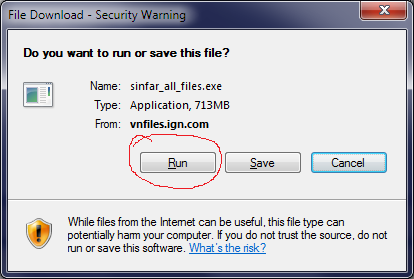 3) Wait that the transfer finish.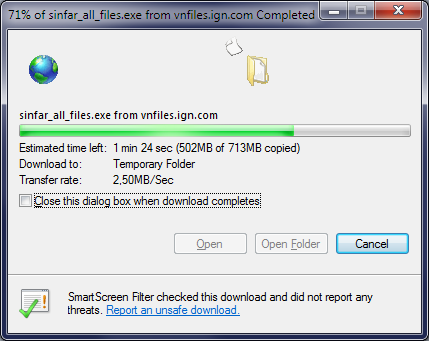 4) Click run again, if needed.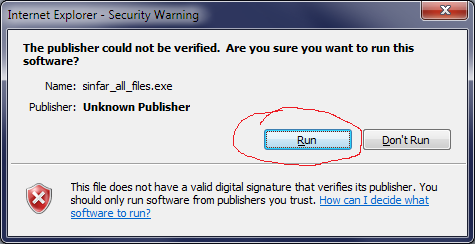 5) In the window that appear, click the "..." button and select your NWN directory.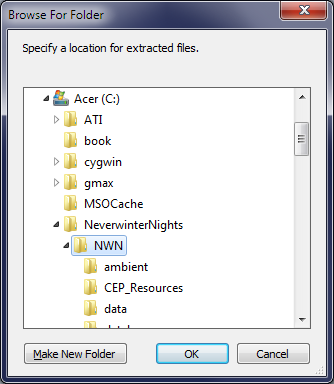 If you dont know where it is, enter C:\NeverwinterNights\NWN in the field.
Note: This installs into your primary game directory, where nwmain.exe is located. Not all game installations will use the same name.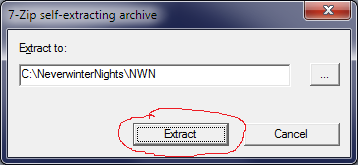 7) Wait that the process be done.
For Advanced Users
A) Download the files one by one
B) Download all files in one 7zip archive
Here is what you should have in your NWN\ directory
By size (bytes)
1562746880 ./hak/sf_cre_mdls_v29.hak
952545280 ./hak/sf_cre_texes_v29.hak
138424320 ./hak/sf_doors_v29.hak
453365760 ./hak/sf_effects_v29.hak
428249088 ./hak/sf_itm_other_v29.hak
179273728 ./hak/sf_itm_weap1_v29.hak
164495360 ./hak/sf_itm_weap2_v29.hak
115191808 ./hak/sf_ldscreens_v29.hak
1024569344 ./hak/sf_pc_body_v29.hak
658276352 ./hak/sf_pc_head_v29.hak
275103744 ./hak/sf_pc_lower_v29.hak
868356096 ./hak/sf_pc_main_v29.hak
196141056 ./hak/sf_pc_upper_v29.hak
1070825472 ./hak/sf_plc_main1_v29.hak
1330737152 ./hak/sf_plc_main2_v29.hak
1247715328 ./hak/sf_plc_main3_v29.hak
255713280 ./hak/sf_portraits_v29.hak
150089728 ./hak/sf_skyboxes_v29.hak
563023872 ./hak/sf_tls_core1_v29.hak
490323968 ./hak/sf_tls_core2_v29.hak
510418944 ./hak/sf_tls_core3_v29.hak
823697408 ./hak/sf_tls_core4_v29.hak
913973248 ./hak/sf_tls_core5_v29.hak
744599552 ./hak/sf_tls_core6_v29.hak
607752192 ./hak/sf_tls_extra_v29.hak
124231680 ./hak/sf_top_v29c.hak
266240 ./override/pal_armor01.tga
266240 ./override/pal_cloth01.tga
266240 ./override/pal_leath01.tga
8126464 ./tlk/sinfar_v29.tlk
By MD5
40ef40b16c7a7f5b1d9079443d7e4ec3 *./hak/sf_cre_mdls_v29.hak 85f415d3d998c827b5a8624eb29ad99e *./hak/sf_cre_texes_v29.hak ba53b373e122aa152e6d0012cf3fef21 *./hak/sf_doors_v29.hak 8aa380ebd2742db1fc741e7dc2207e5e *./hak/sf_effects_v29.hak f858b4c2a996a6fbe95fa9af2c8cb410 *./hak/sf_itm_other_v29.hak 834471af50fcb558ab34e7e209f9e108 *./hak/sf_itm_weap1_v29.hak dcbcfb5eb8f4b7b4ca3691367ce09e66 *./hak/sf_itm_weap2_v29.hak 224990784456b726d9813f9e3f893c65 *./hak/sf_ldscreens_v29.hak 1091a19072de96f6443b15a51917fd10 *./hak/sf_pc_body_v29.hak 799d207ce332f36196e274eaa79886e9 *./hak/sf_pc_head_v29b.hak 501e9f6d43b1ef250b45e6ec673219ff *./hak/sf_pc_lower_v29.hak f6d4c0f53f2c4567c8a3982fd41c7c09 *./hak/sf_pc_main_v29.hak 9d0c60eaf91ca558c19ea83ed17a6103 *./hak/sf_pc_upper_v29.hak fcd124ac5598e284fa091c57e3617bc9 *./hak/sf_plc_main1_v29.hak b14a0841143a9d86a3a4e1f59b46fbc2 *./hak/sf_plc_main2_v29.hak 8172594c05a79578ee440282447da8a9 *./hak/sf_plc_main3_v29.hak fd494d2f28a482f9cd7416b98a5fd889 *./hak/sf_portraits_v29.hak 00775bb4f06646731f3042d77096cd76 *./hak/sf_skyboxes_v29.hak 41d309a09df21868116890b2e371aa76 *./hak/sf_tls_core1_v29.hak 3fb35ccf6b004c965824e64bc8308fa0 *./hak/sf_tls_core2_v29.hak 460b6f8f52e7a4014c4f7b372d69ae41 *./hak/sf_tls_core3_v29.hak 74934d46f09ad8b84dd399b835624168 *./hak/sf_tls_core4_v29.hak b31d6ac42740b19796e5e89bf07a894c *./hak/sf_tls_core5_v29.hak 46c0ac792f0a7720e31b84dc5582b015 *./hak/sf_tls_core6_v29.hak b39e7e726e20d91a4f3eeee626b2cef9 *./hak/sf_tls_extra_v29.hak b6394f9e4dc6ff063f71d721f7848393 *./hak/sf_top_v29.hak b4e1c3a3ff2e8f93dcb2d6ec9643dbc1 *./override/pal_armor01.tga 2758e88ea4cad5ab4fe1e11cc6deb085 *./override/pal_cloth01.tga e77e1628880f9818b725d7c6beb50917 *./override/pal_leath01.tga f2b4bf5c77e2930762083d140f135bc7 *./tlk/sinfar_v27.tlk